Profile

Free Account
Created on 2009-05-19 18:27:00 (#365124), last updated 2009-05-19 (435 weeks ago)
3,732 comments received, 0 comments posted
1,958 Journal Entries, 25 Tags, 0 Memories, 6 Icons

About

Mini Bio

My name is Amy, I am a 30yr old British girl and live in a seaside town called Lowestoft in England. I love movies and usually have the tv on in the background no matter what I am doing.
I love to read and will read pretty much any genre. I also love to write, and will admit to feeling more alive when I have some kind of fiction going on. As much as I love to write, I find it very hard to share my writing with other people. For me it's personal, though I do harbour the dream that one day I will write a best selling novel!
I have an interest in Spirituality and in most things supernatural. I've seen spirits, I'm a healer and whilst it is an important part of who I am I don't often talk about it.
I have four gorgeous pet rats, who are called Sam, Dean, Jensen and Hiro.

You might be wondering why three of my boys are named after the guys in Supernatural, and one of them named after a character in Hereos. Truth is I lost one of my boys a couple of months ago, his name was Jared.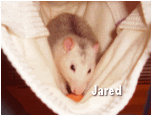 I talk about my boys a lot, they are my babies and are a source of constant love and amusement to me.
Please feel free to leave me a comment if you want to add me as a friend.

Connect
90210
,
ancient egypt
,
angel
,
angelina jolie
,
angels
,
anne rice
, ashton kutchner,
austin
,
books
,
britain
,
buffy
,
carpal tunnel syndrome
,
colin farrell
,
colin firth
,
computer graphics
,
coupling
,
criminal minds
,
crystal balls
,
crystals
,
csi
,
csi vegas
,
dan brown
,
daphne dumaurier
,
daydreaming
,
dominic monaghan
,
dreaming
,
dreams
,
drew barrymore
,
dvds
,
empire records
,
faeries
,
fairies
,
fancy rats
,
fanfiction
,
fantasy
,
gerard butler
,
ghost whisper
,
ghost whisperer
,
ghosts
, hands on healing,
healing
,
heroes
,
highly sensitive person
,
history
,
hsp
,
hypothyroidism
,
internet
,
jack davenport
,
james mcavoy
,
james purefoy
,
jane austen
,
jared padelecki
,
jensen ackles
,
jj feild
,
johnny depp
,
jonas armstrong
,
lie to me
,
lord of the rings
,
love
, lowestoft, mark ordesky,
matthew mcconaughey
,
michael fassbender
,
mythology
,
nathan fillion
,
old buildings
,
paganism
,
paint shop pro
, patrice pike,
paul blackthorne
,
pink
,
pirates of the caribbean
,
pixies
,
playing the sims 2
, playing with my rats,
poetry
,
rats
,
reading
,
reiki
,
richard armitage
,
rocky horror picture show
,
romance
,
science fiction
,
scott foley
,
sean bean
,
sgc
,
shiny things
,
spirits
,
spirituality
,
stargate
,
stargate atlantis
, staying awake until 4am,
stories
,
stuart townsend
,
supernatural
,
supernatural beings
,
tattoos
,
the dresden files
,
the mentalist
,
the unit
,
travelling
, underactive thyroid,
unexplained phenomena
,
vampires
, veiny arms,
viggo mortensen
,
watching tv
,
wicca
, william fitchner,
witchcraft
,
writing

People
[View Entries]
milk_and_glass
,
sexysadie

[livejournal.com]
aussieclairey
,
bohemiangeek
,
bunkie95
,
cheekymonkey227
,
dietcokebreak
,
drunkendeadcat
,
earthmomma
,
emma1985
,
faeriemoondust
,
faeryg-family
,
fairygothmum
,
ffm-bkk
,
fran-j
,
heavendiaries
,
honeybomb
,
ichigo-icons
,
joeylynne
,
jupitersdarling
,
lin
,
love-note
,
luciasledge
,
madmackemgirl
,
milk-and-glass
,
missrogue
,
noonesanyone
,
ruschka
,
seeker-finder
,
sharmie
,
shinyeleni
,
uarda
,
xanderave

Communities
[View entries]

Feeds
[View Entries]

Subscriptions (0)

Linking
To link to this user, copy this code:
On Dreamwidth:
Elsewhere: